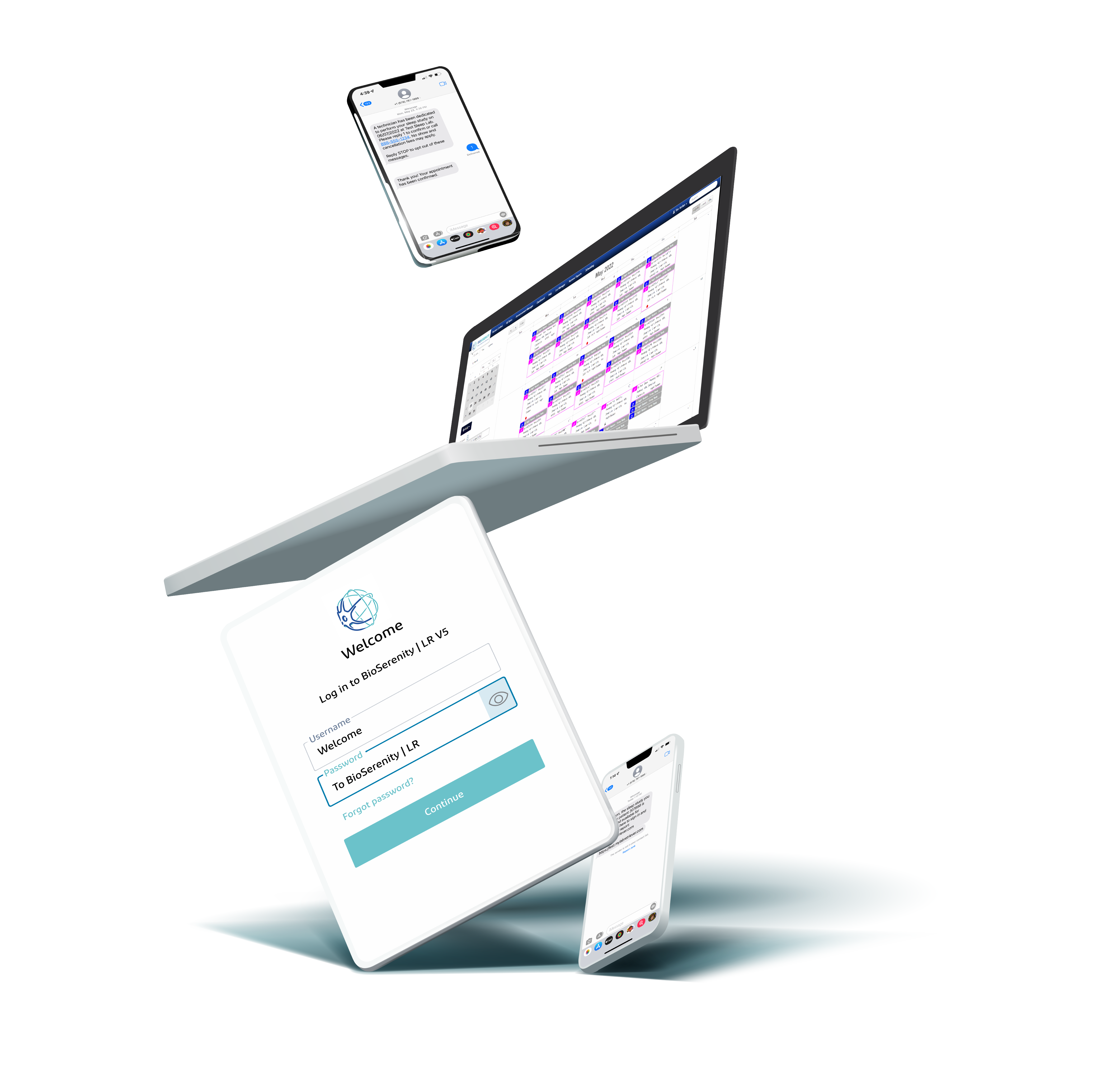 Optimize labs, maximize bed occupancy
A fully customizable, end-to-end software for sleep and EEG lab management. Features scheduling for in-lab studies, office visits as well as comprehensive HST processing and shipping.
Our experience is unmatched. For over 20 years, we have dedicated ourselves to becoming global experts in integrating all aspects of your business so that you can get back to the business of healthcare.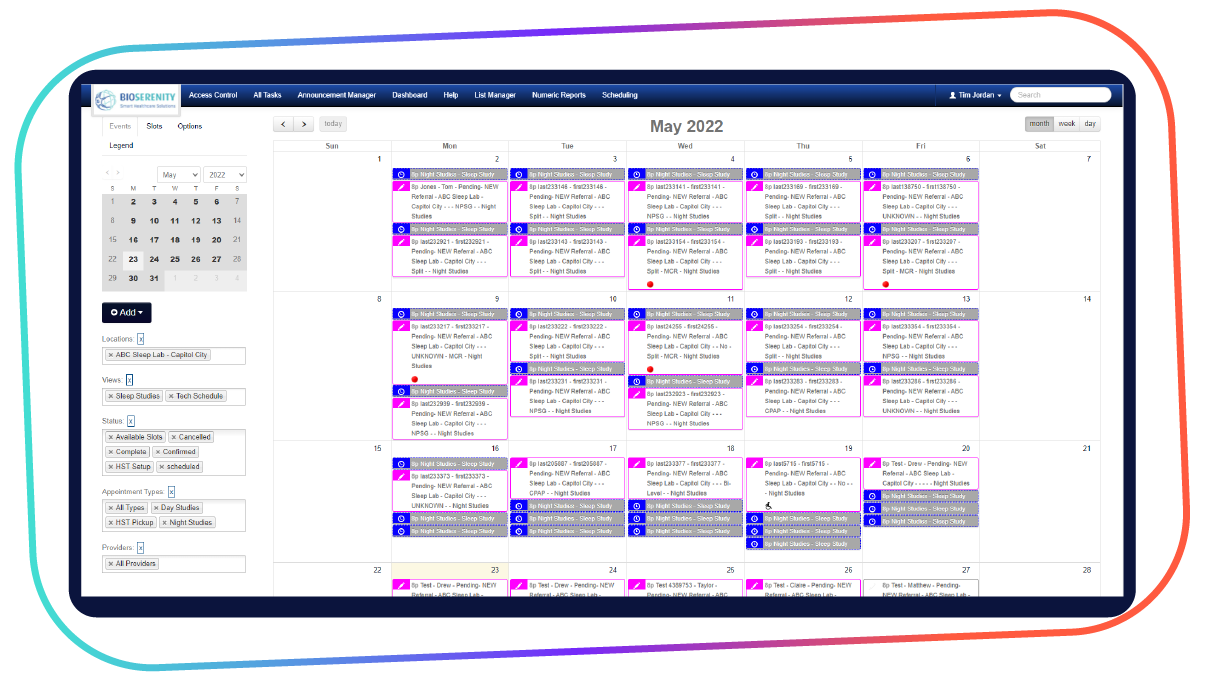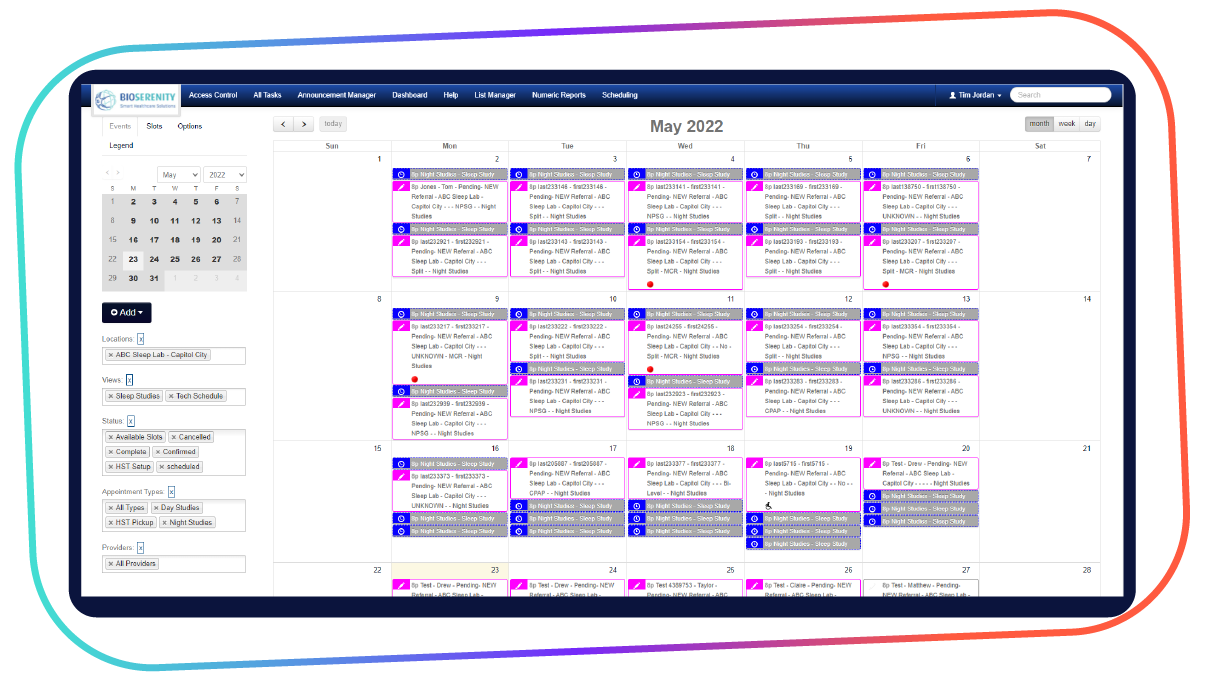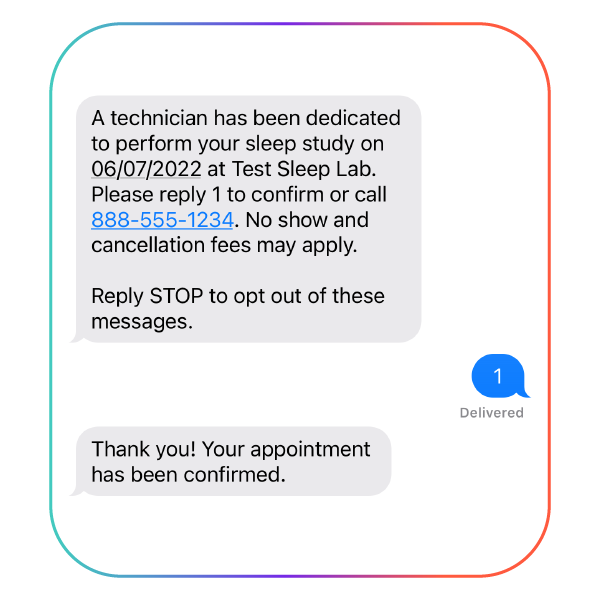 Whether inside or outside your walls, BioSerenity LR keeps you connected with patients like never before. If there's an internet connection, utilize features such as instant text messaging and automated short-list scheduling capabilities.
Not at your computer? No problem. Hold the power of BioSerenity LR in your pocket or backpack with any device that can connect to the internet.
Interested in a live demo?
"LR has helped us streamline our operations and allowed us to manage multiple locations more efficiently. The reports are very user friendly and easy to access and customize. The reports help us capture our physician and referral base and allows us to market to them individually with specific patient information and outcomes. We are a big supporter of LR and appreciate the one on one relationship that we have had over the years with their team. They continue to provide support and knowledge to us today just as they did when we started our implementation ten years ago!"
"LR has been instrumental in streamlining our processes. We are able to offer a streamlined approach to handling referrals, benefits/eligibility, scheduling, QI initiatives, scoring, sleep study interpretation as well as archiving of our records."
"Whether managing one sleep program or several, LR has provided us the ability to remotely access every aspect of our operations - providing transparency and remote capabilities for scheduling, scoring, and interpretation. From the moment we accept a referral, through clinic, testing and treatment - we rely on LR to literally drive our work flow. Moreover, it's the people that support the product that have taken LR from a great product to a partner in our success."
"LR has been a tremendous help in establishing a consistent and accurate workflow for my sleep center clients. They went from hap-hazard, all-paper, stone-age technology to a fully digital and modern patient management system. The ability to have staff at every stage of the sleep diagnostic process access the system from any location has proven critical to timely and efficient patient care. Additionally, SleepEx has made a number of modifications and customization to LR in order to meet specific needs, streamlining DME and office visits all in one portal. They have been extremely responsive to issues and constantly evolve to provide a better platform."
"I have been a customer of LR since its first day. During my 20 plus years of using LR, I have been employed by several sleep entities of varying sizes. I assure you that LR is capable of meeting your company's needs regardless of your size and that they will do so with appreciation for your business. They have never failed to make every effort to accommodate our special requests, if humanly possible. I have been, and continue to be, completely satisfied with the service and the personnel of LR and highly recommend them to anyone in the healthcare business."
"I have used LR for the past 10 years and it has been a time saver. We can track our patients from the initial referral through their set up with the DME. Our turnaround time with this system for our medical director to do the interpretation is less than 24 hours From the time the study is scored. We are able to keep all patient records together. I am also able to do monthly reports easily. AND THE TECH SUPPORT IS GREAT!
"The remote access that we have with LR provides us a way of scoring and interpreting sleep studies well within the standards that we set for our practice becoming AASM accredited."
Partner with BioSerenity!